Henry Darwin Rogers Special Lecture
"The Origin and Emergence of Global Coupled Biogeochemical Cycles"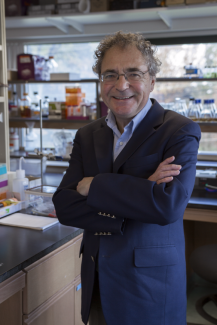 University of Pennsylvania
Department of Earth and Environmental Science
Presents
Henry Darwin Rogers

Special

Lecture
and
Student Awards Ceremony
Friday, April 29, 2022
1:00 PM
Lynch Room, Chemistry Building,
231 South 34th Street, Philadelphia
Please have an ID to enter
Dr. Paul Falkowski
Bennett L. Smith Chair in Business and Natural Resources
Departments of Earth and Planetary Sciences and Marine and Coastal Sciences
Board of Governors Professor and Director of the Rutgers Energy Institute
"The Origin and Emergence of
Global Coupled Biogeochemical Cycles"
The evolution of life is the "black hole" of biology.  Not only don't we understand how life came to be, amazingly, biologists can't agree on a definition of life.  Regardless, assuming that life is a process where there are membrane bound organisms that exchange gases with their environment, they ultimately could change planetary atmospheres.  I will discuss what we know and don't know about the origins of life and how we can discover the bridge between prebiotic chemistry and autocatalytic chemistry.  The origins of life.
Lunch will be held prior to the Special Lecture in the Hayden Hall Lobby from 12:00-1:00 PM
Please RSVP at earth@sas.upenn.edu or (215) 898-5724