Our vision statement
We seek to obtain and communicate a fundamental understanding of our environment and its interactions with life through time.
 
Our history in brief
University of Pennsylvania (Penn) has offered courses in geology since the institution's founding by Benjamin Franklin in the 1740s. Originally part of a broader science curriculum with chemistry and biology, geology developed as a separate discipline beginning in 1835, when Penn established the Department of Geology and Mineralogy and appointed Henry Darwin Rogers as its first professor. Our Department still hosts an annual memorial lecture in his honor, bringing to campus prominent scientists from around the world. The Department is mostly housed in the distinctive red brick Hayden Hall, built in 1895 and named for Penn Professor Ferdinand Vandiveer Hayden, who during the 1800s directed many of the first geological surveys of the American West. In 1972, following the first Earth Day organized by a group of Penn students in 1970, Penn launched a new undergraduate major in environmental studies. In 1998, to reflect more accurately the intellectual direction of its research and educational programs, the Department of Geology took the new name it carries today—the Department of Earth and Environmental Science.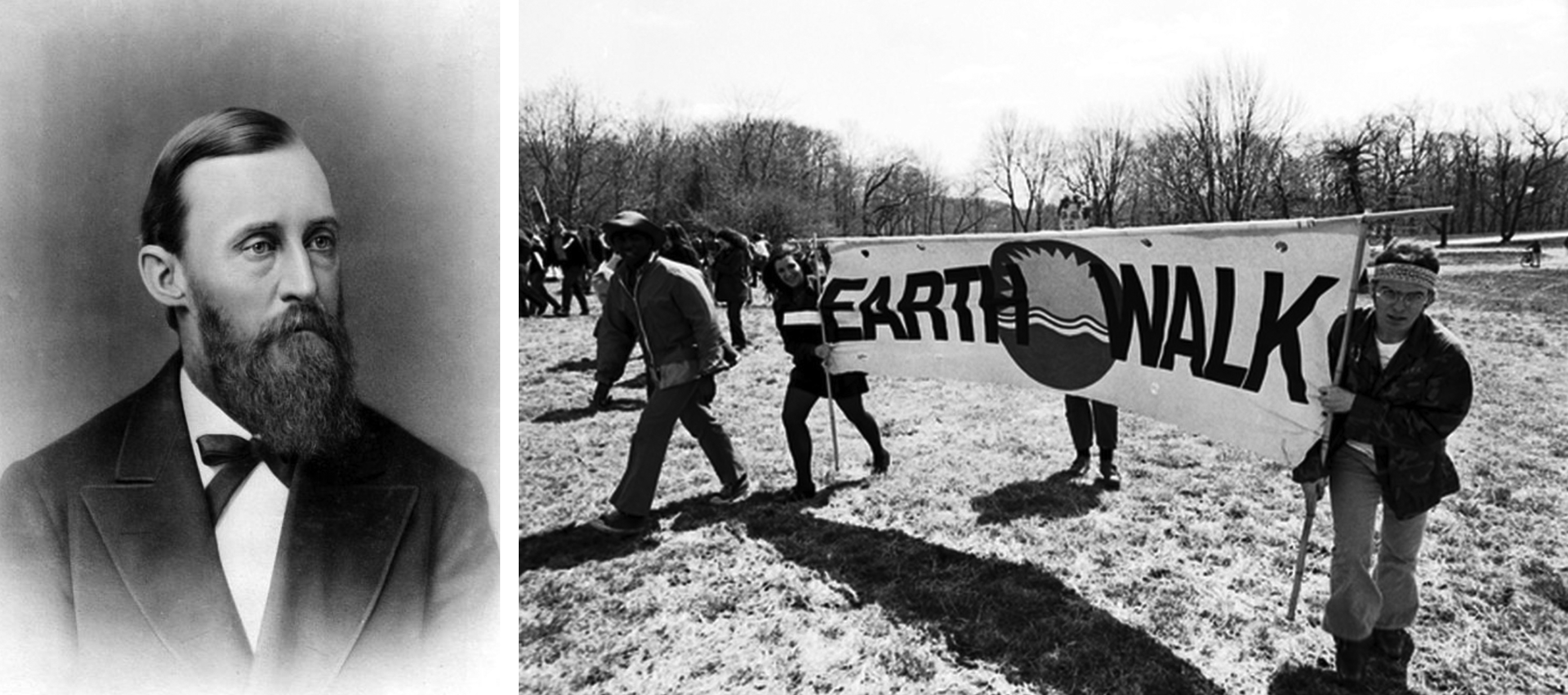 What we do 
Earth and environmental science combines elements of geology, physics, chemistry, biology and mathematics to study the Earth and its relationship with biological organisms. Areas of inquiry range from the atomic and molecular to the largest scales, from ancient times to the present and into the future. Research in the Department encompasses minerals and rocks, soils and sediments, mountains and landscapes, the atmosphere, the hydrosphere and climate, fossilized and living organisms, and human impacts on the environment.
Our students learn from world-class faculty, recognized through numerous awards, leadership positions and editorial responsibilities. The Department combines classroom education with practical learning in the field and in the laboratory, and provides students with opportunities for original, independent research under careful faculty guidance. Our emphasis on academic excellence and hands-on training provides our graduates a comprehensive understanding of nature and environmental issues, preparing them for successful, wide-ranging careers, be it in academia, industry, government or non-governmental organizations.
The Department offers undergraduate majors in Earth Science and Environmental Studies and several popular non-majors courses. Furthermore, it oversees two professional Master's programs in Environmental Studies and in Applied Geosciences. A PhD program in Earth and Environmental Science trains students to be independent researchers in academia and non-academic settings. PhD students benefit from individualized guidance and support from their faculty advisors, their graduate committee and the broader graduate group. Our teaching and research missions are strengthened by the work of the Water Center, our applied research entity that connects Penn's experts in policy, science and technology with water practitioners to address urban water challenges. The Department makes available supplement research funding for undergraduates and graduate students.
 

Our community
Our Department brings together faculty, students, postdoctoral scientists and staff of diverse origins and identities. As laid out in the departmental statement on diversity, equity, and inclusion, we strive to provide a collegial learning and working environment that feels safe and inclusive for everyone. All people are welcome here regardless of their background.
Penn's landscaped urban campus is an accredited arboretum. Near its eastern edge, Hayden Hall, our main building, houses the Department's administration and most of our members and laboratories. Some faculty have space in neighboring David Rittenhouse Laboratory or in the Department of Biology. The Water Center is located in the McNeil Building, in central campus. All our facilities are within a short walk and indeed, all twelve Penn schools are easily accessible, which stimulates and simplifies our collaboration with colleagues around the campus.
The Penn campus connects to nearby Center City, Philadelphia's administrative, business, shopping, dining and arts & entertainment district, through convenient public transportation, bikeways and footpaths.
Amtrak trains, boarded at 30th Street Station, within a few blocks of campus, offer easy access to locations along the Northeast Corridor, from Washington, DC, to New York and Boston. Bus lines present a budget-friendly option to reach these and some other cities. Philadelphia International Airport is about 20-30 minutes away by car and is also easily accessible by regional rail.