People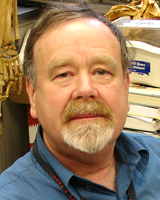 Office Location:
M113E Old Vet, School of Veterinary Medicine, 3800 Spruce St.
Professor of Veterinary Gross Anatomy
Professor of Earth and Environmental Science (paleontology); Research Associate, Academy of Natural Sciences
Education
B.Sc. honors geology University of Ottawa 1968
M.Sc. geology University of Alberta 1970
Ph.D. geology and geophysics Yale University 1974
Research Interests
dinosaur paleontology, horned dinosaurs, vertebrate anatomy, evolution
Selected Publications
Schachner, E.R., Manning, P.L., and Dodson, P.  2011. Pelvic and Hindlimb Myology of the Basal Archosaur Poposaurus gracilis (Archosauria: Poposauroidea). J. Morphol. 2011: 1 – 28.

Schachner ER, Farmer CG, McDonald A, Dodson P. 2011.  Evolution of the dinosauromorph respiratory system: evidence from rib and vertebral morphology. Anatomical Record 294: 1532 – 1537.

Wogelius, R., Manning, P., Barden, H., Edwards, N., Webb, S., Sellers, W., Taylor, K., Larson, P., Dodson, P., You, H., Li, D., Bergmann, U. 2011 Trace metals as biomarkers for eumelanin pigment in the fossil record. Science 333, 1622-1626.

McDonald, A. T., Bird, J., Kirkland, J. I., and Dodson, P. 2012. Osteology of the basal hadrosauroid Eolambia caroljonesa (Dinosauria: Ornithopoda) from the Cedar Mountain Formation of Utah. PLoS ONE 7 (10): 1 – 38. e45712   DOI: 10.1371/journal.pone.0045712 

You, H.-L., Morschhauser, E., Dodson, P. and Li, D.-Q. 2012. Auroraceratops sp. (Dinosauria: Neoceratopsia) from the Early Cretaceous of the Mazongshan area, northwestern China. Vertebrata PalAsiatica 2012: 170 – 180.

Rivera-Sylva, H.E., Hone, D.W.E, and Dodson, P. 2012. Bite marks of a large theropod on a Hadrosaur limb bone from Coahuila, Mexico, Boletín de la Sociedad Geológica Mexicana 64: 155 – 159.

Dodson, P.  2013. Ceratopsia Increase: history and trends. Canadian Journal of Earth Science 50: 294 – 305.

Egerton, V.M., F.E. Novas, Dodson, P. and K. Lacovara. 2013. The first record of a neonatal ornithopod dinosaur from Gondwana. Gondwana Research 23: 268 – 271.

Hedrick, B.P., A.R. Tumarkin-Deratzian, and P. Dodson. 2013. Bone microstructure and relative age of the holotype specimen of the diplodocoid sauropod dinosaur Suuwassea emilieae. Acta Palaeontologica Polonica online 16 Oct 2012 doi: http://dx.doi.org/10. 202/app.2012.0049

Hedrick, B. and Dodson, P. 2013. Lujiatun psittacosaurids: understanding individual and taphonomic variation using 3D geometric morphometrics. PLoS One 8 (8): 1 - 13. e69265. doi:10.1371/journal.pone.0069265..
Courses Taught
Geology 477 Survey of Vertebrate Paleontology; Geology 478  Introduction to Dinosaurs; Geology 615 Advanced Seminars in Vertebrate Paleontology
Affiliations
American Association for the Advancement of Science
Society of Vertebrate Paleontology
Delaware Valley Paleontology Society